Cozy rooms with an open fireplace
Du kan booke vores hyggelige lokaler med det åbne ildsted, hjemmelavet mad og venlig, kompetent betjening til dit private selskab eller firmaarrangement med op til 80 gæster. 
Tidspunkt
Du kan booke Restaurant Kronborg til dit private selskab alle ugens syv dage fra kl. 18.00 til midnat – med mulighed for forlængelse til kl. 01.00.
Send en mail med navn, telefonnummer og foretrukne dato for dit selskab til reservation@restaurantkronborg.dk, hvis du vil høre mere om mulighederne for at holde dit næste selskab på Restaurant Kronborg.
En smørrebrødsmenu, serveret "family style", er altid et populært valg til en sammenkomst, hvad enten du vil forkæle dine venner og familie eller dine forretningsforbindelser.
Gæsterne elsker at smage. dele, diskutere favoritter – og få mere af det, de bedst kan lide. Du kan se vores forslag til smørrebrødsmenuer på:
Vi sammensætter gerne en øl- og snapsemenu specielt til smørrebrødsmenuen.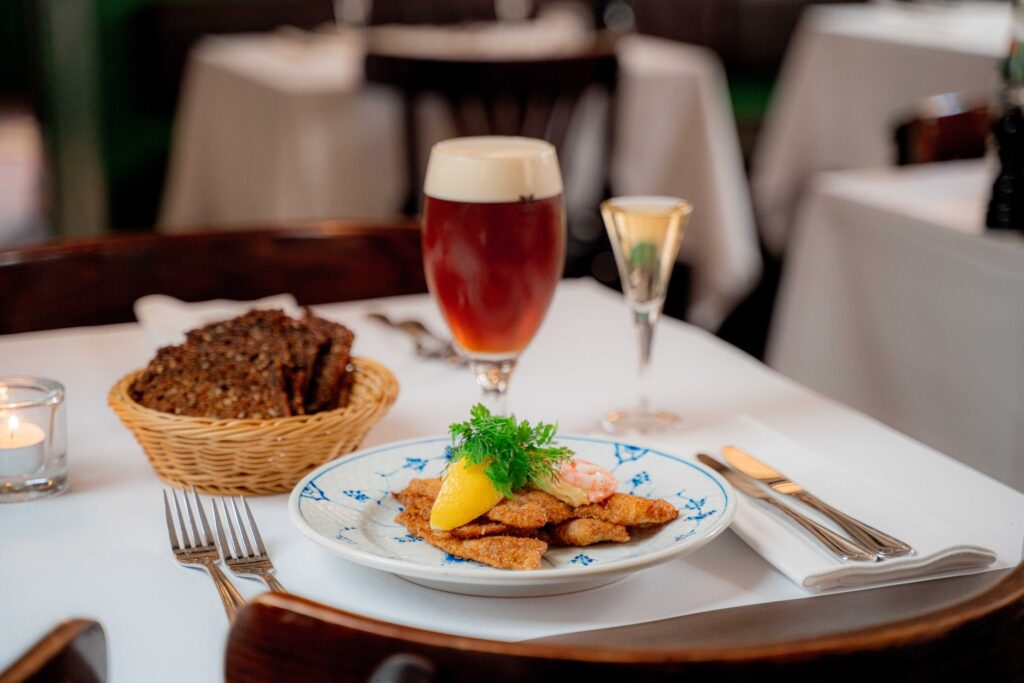 We have 4.5 stars out of 5 on Google
One of Copenhagen's best classic smørrebrød restaurants, fine selection of homemade schnapps and, not least, fantastic service from the staff – attentive, humorous and full of personality. 
– Morten Mørup Jepsen
Super good breakfast place. The food was absolutely perfect and top quality. I dropped my fish fillet on the floor, but the good waiter immediately brought a new one. It was service at a high level! See you again soon! 
– Simon Falk
Super lunch cafe with classic smørrebrød and with a positive twist of something new. So delicious, sweet service and always nicely covered. Toilets are nice. The restaurant is highly recommended.
– Lone Siesing